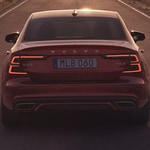 If you love the idea of driving a luxury compact sedan as your next vehicle, the popular Volvo S60 is sure to be right up your alley. We here at Volvo Cars Mansfield are proud to be the local suppliers for this top-quality vehicle line, and we invite you to our showroom in Mansfield, OH for a road test today.
You can select an S60 with either a gas-fueled, turbocharged engine or a plug-in hybrid motor for the ultimate in convenience and environmental consciousness. With the baseline motor, you'll be able to count on your S60 consistently generating 250 horsepower and almost 260 pound-feet of torque.
Estimated combined fuel mileage ratings start at 27 miles per gallon for the gasoline engine and increase significantly for the hybrid style. A one-ton towing capacity rounds out the Volvo S60's generous capability and performance amenities.